Do you have a garage, then you of course always need a garage door. If this door do not completely meet your current needs, then there are many options to replace it with a sectional door, sliding door or a modern roller shutter for your garage. In this article, you will find more about the kinds of garage doors and the materials used.
Garage doors
A garage is where a car or other large vehicles should be kept in. The garage door is not only practical to use, but also plays an important role in the appearance. Keep this in mind when considering which door will be placed. Also, the final choice should also be taken into account a number of things such as comfort (eg electric motors), the appearance, ease of operation, the isolation and safety.
Types of garage doors
Garage doors can be broadly classified into the following systems:
horizontal sectional
lateral sectional
French doors
over doors
shutters
Horizontal Sectional
The sectional doors are the best selling garage doors at this time. They look very nice from the elongated panels and the greatest benefit is the comfort of a smooth running system and a great ease. Also think of the possibilities of electric (remote) control. (But also, if desired, a manual operation is still possible.) The horizontal sectional go from bottom to top and the bottom have a threshold. The shape of the garage wall here is not really important. For example, a arc shape, or a bevel is no problem for these doors. Further, these doors made in materials that have a good insulation, cost-effective work and you can also connect a heater in your garage. But with traditional wood fireplace, they are also possible. In this type of doors, it is not necessary to open the entire door be cause every vehicles can go through easily.
Sideways sectional doors
With the side sectional doors, the door vertically open to the left or right depending on your needs. Furthermore, for this type of door, there are the same features and capabilities as the horizontal sectional. This type of doors, however, have no threshold and its price is technically better. (The side sectional door is the latest invention of Novoferm.)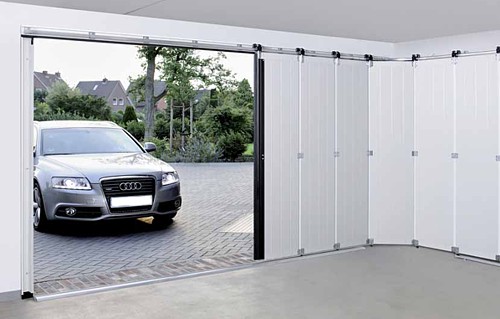 French doors
The advantage of the sliding garage doors is the timeless appeal of this type of doors. They are still available in wood, but that does not mean that they can not also be supplied in steel with insulation, which is similar to the above sectional doors.
Over doors
The over garage doors are the most subscribed garage doors worldwide. This model has been used for a long time and still meets most people need nowadays. It is slightly less ease, but there is also a different price tag compared to previous types of door. There are still developments which are taking place to improve these doors in the technical field (quieter and safer).
Shutters
These doors roll above the entrance around a shaft. Usually this reeling door is installed in a closed container. At the bottom of the door you will find a thick and smooth rubber which the garage door flush with the ground. These doors are always supplied with an electric remote control and the door is very easy to use.
Safety
The burglary protection is also paid much attention on nowadays. Many of the garage doors are secure at the level of the SKG2 label which is recommended by the police. There are security features in every types of door above. If it detect some problems, the door will automatically stop and start up again. A spring break protection ensures that when a torsion spring breaks, the door can not fall down. A finger protection is set up so your finger can not get stuck between the panels. Many of these doors have an electric motor that automatically locks when it is closed, so there is little risk of burglary. If you have specific questions or need further information for the prices, the quality, or the operating system, please contact one of the many vendors in your area. They can give you detailed information about the door that best fits your specific needs and your wallet.