Do you know the stack? Everyone has at home or somewhere a stack of letters, printed emails and other confidential documents. And that amount is growing by the week. Some of them you want to archive and the other part you do not want to keep but do not throw in the waste paper. Are you looking for a reliable paper shredder to safely destroy these documents.
You do not spend hours every day shredding documents. So it's a logical idea to buy an inexpensive shredder. For example, a shredder at the corner store. Our advice is to not choose this cheap 'shredders'. And this is the reason:
The cheap shredders do not destroy your paper properly. These shredders make clear long wide strips from your documents. Much information therefore remains legible. And reconstruction of these strips is relatively simple. We recommend to use this so-called strip cut shredders for non-confidential documents.
Would you like to destroy your confidential information in a proper manner? As paper with your personal information or other sensitive information? Then it is necessary to buy a better shredder. Shredders with a safety class DIN P-3 or higher make snippets of your documents. And the higher the class, the finer the chop. Cross-cut shredders make short, thin strips of your paper. This results in unreadable scraps that are difficult or impossible to reconstruct.
What to look for when purchasing your shredder?
Our paper shredder buying guide takes all the points from where you can look for when making your choice. In short, these are the main points:
Safety class
Input
Sump
Duty Cycle
What do you want to destroy
The destruction of confidential paper: At least opt for a DIN P-3 shredder. For home use a DIN P-3 will do just fine. The input indicates how much paper you can stop in the entry mouth at once. For example, five sheets of A4 paper. The storage capacity is indicated in liters. Most shredders for home use are small and compact and therefore they will have a relatively small storage capacity. The operation cycle indicates how many minutes the shredder can shred in a row. Finally, some shredders can destroy more than just paper for example cardboard shredders. There are shredders for sale which also can shred credit cards and CDs.
Below are the five compact shredders for home use. These personal shredders meet our demands for the destruction of confidential papers. All shredder destroying at least with protection class DIN P-3. The small shredders are ideal for occasional paper destruction and are compact enough to easily fit a place in your office or home office.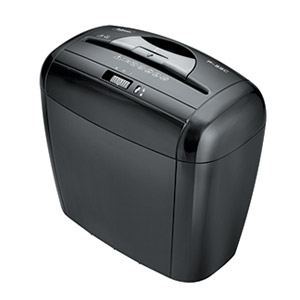 Fellowes Powershred P-35C black
The Fellowes P-35c is a popular, compact and economical shredder. The blades cut vertically and horizontally across documents and credit cards. They can destroy up to five A4 sheets at a time. The P-35c is safe to use and contains a reverse function. This shredder is perfect for light everyday use around your desk. The height of the Fellowes is only 30 cm.
Safety class: DIN P-4 (micro chips)
Warranty: 2 years
Noise level: 70 dB
No. A4: 5 sheets
Tray: 12 liters
Rexel Duo Shredder
"Make short work of destroying paper and CDs."
The Rexel Duo is a compact shredder for home or small office. The reliable shredder shreds your paper (staples) into fine mulch, and also CDs. The shredder is somewhat noisy and quite quickly become hot. The small shredder does not take much space it fits under any desk.
Safety class: DIN P-3 (shredded)
Warranty: 2 years
Noise level: 70 dB
No. A4: 10 sheets
Tray: 17 liters
Fellowes Powershred P-48C
"Perfect shredder for home use."
The Fellowes P-48c is a solid and reliable shredder for the destruction of small quantities of paper and cards. The blades automatically start and stop and have a reverse function. The machine destroys up to five minutes long and up to 8 sheets of paper at a time. It is ideal for one user and fits neatly under your desk.
Safety class: DIN P-3 (shredded)
Warranty: 2 years
Noise level: 70 dB
No. A4: 5 sheets
Tray: 18 liters
Fellowes Powershred W11c
"Paper, staples and credit cards all are no problem."
Destroy very fast your paper, cards and CDs with the Fellowes Powershred W11c. DIN P-4 class provides high destruction of confidential documents. The burly W11c has a large collection box and is easy to operate. With 75 dB, it is somewhat noisy, suitable for one user. The W11c has the safety lock when the shredder is not in use.
Safety class: DIN P-4 (micro chips)
Warranty: 2 years
Noise level: 75 dB
No. A4: 11 sheets
Tray: 21 liters
Fellowes Powershred 63Cb
"Proper shredder that can shred long periods"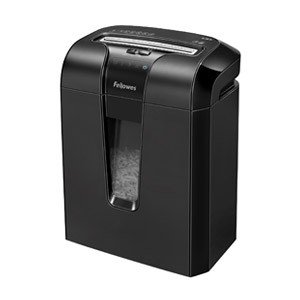 The Fellowes Powershred 63Cb is an individual shredder that can shred a long time up to 8 minutes. This makes the shredder ideal for larger shredding task, such as cleaning up your home archives. The 63Cb is 100% paper-jam proof, so you do not suffer from crashes. In addition, the input is safe for your fingers. It can also destroy paper staples, paper clips and credit cards. The Fellowes switches off after two minutes of inactivity in the standby mode.
Safety class: DIN P-3 (shredded)
Warranty: 2 years
Noise level: 62 dB
No. A4: 10 sheets
Tray: 19 liters